What's the point of the Taste Tester Group?
The intent of this group is to bring some of the most passionate jerky enthusiasts that we know into our process of deciding which new flavors we make are worthy enough to be introduced into the Jerky.com product lineup permanently…and which flavors aren't.

Historically, this is something that happens inside of the company with some outside input from friends and family. On occasion, we let our customers who come into our storefront (located in Oklahoma City, by the way!) try some of a new sample batch and let us know what they think.
Every time we bring a customer into this process, they really seem to enjoy having a part in it…and often, they provide us with valuable feedback. We figured out that we LOVE including our customers in this process and we really want to bring more customers into it.
So…we started this group and invited you to it.
We introduce new flavors of jerky to our Taste Testers in the form of our Keep It or Kill It Flavor Drops.
At these events, we make a limited number of Flavor Drop Bundles available for purchase to all of our Taste Testers. 
Each Flavor Drop Bundle contains: 1 bag of the new Jerky flavor, 1 commemorative Jerky Coin, and 1 Official Vote in our Keep It or Kill It Feedback Form (your votes determine whether or not we Keep the flavor!).
These bundles are available at a first-come, first-serve basis...and are ONLY available to Taste Testers.
So...be ready for these Flavor Drops and scoop yours up ASAP before they are gone!
When are the Flavor Drops?
Each month, we have a new Keep It or Kill It Flavor Drop.
It will usually be around the 20th of each month (give or take a few days!).
The Flavor Drops happen at Noon Central time (10am Pacific, 11am Mountain, and 1pm Eastern). We email all of our Taste Testers as well as send out Text Messages to the Taste Testers who signed up to be notified via SMS Messages.
BUT...the Taste Testers in our Private Facebook Group get a FULL HOUR HEAD START on these as we post it in the Group at 11am Central Time (9am Pacific, 10am Mountain, and Noon Eastern). So, if you haven't joined the group yet...join the group HERE.
Pro-Tip...The rarer coins go pretty quickly in the Facebook Group! Hint, hint!
What's The Deal With The Jerky Coins???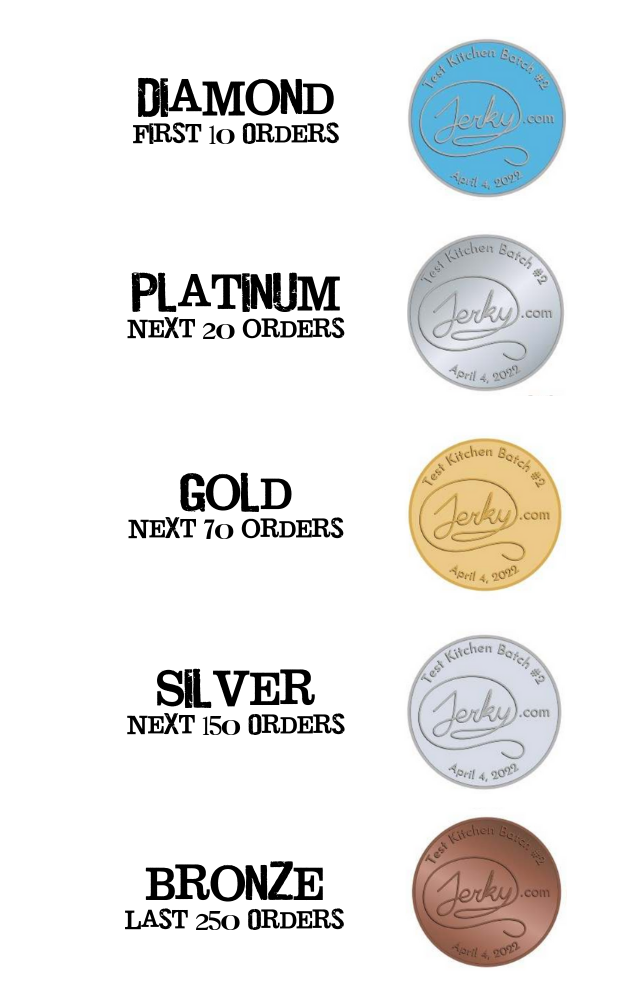 For each Keep It or Kill It Flavor Drop, we have custom coins machined to commemorate your participation in the process of each new flavor.

The front of the coin has the Jerky.com logo, the Flavor Drop number, and the date.

The back of the coin has the name and stylized icons of the flavor.

They are about 1.5" in diameter and have a surprising bit of heft to them. They are pretty cool, if I do say so myself!

We only make 500 of these coins for each Flavor Drop...each in one of five statuses:
10 Diamond Status Coins
20 Platinum Status Coins
70 Gold Status Coins
150 Silver Status Coins
250 Bronze Status Coins
The coins will be dispersed in order as orders are placed. So, get your order in early to get the most exclusive Coins!

I'm Signed Up to be a taste tester.
Now what?
By being signed up to be a Taste Tester...you are half-way there!
Now, all you have to do is participate in our next Keep It or Kill It Flavor Drop and claim one of the bundles before they are gone! To see the next Flavor Drop click HERE
Can i buy these Flavor Drops In Advance?
At the moment - no...BUT...due to popular demand, we are working on something!
No matter what time we hold these events, some people will just not be able to participate...for whatever reason.
So, in an effort to get more people involved in these drops, we are working on something that will help expand to reach more of our Taste Testers.
Stay tuned for updates on this soon!
To be clear…the jerky is NOT free.
We simply cannot afford to make jerky, package it up, pay for postage and ship it out at no cost. We just do not have that kind of money. All we are trying to do is cover our costs…that's it.
If you joined this group for free jerky, i hope you aren't too disappointed and certainly hope you do not feel misled. That wasn't our intention at all. Even if you choose not to participate in the Flavor Drop events, I hope you still stay around the group and talk jerky talk with us. There are a lot of fun people with some great ideas and conversations going on…and i hope you stick around and find value in it and help contribute to it.